As a result of the recent amendments made to the 2019/20 Pro14 Season because of the Covid-19 pandemic, Season Ticket holders at both Edinburgh Rugby and Glasgow Warriors were provided with various options in regards to their pro rata refund available to the cancelled games.
Submitting my details online
for those who have opted to receive a refund on the pro rata amount, we require that you provide us with some information to ensure we get your money back to you.
Step 1
Visit our Online Ticket Centre by going to the following web address https://www.eticketing.co.uk/scottishrugby/
Please ensure you are logged in using the account upon which your tickets, season tickets or membership are connected to. This is the only way you will be able to make any amendments/renewals/purchase of priority access sales.
Step 2

Click on the SIGN IN button which will appear on the top right hand corner of our website.
Step 3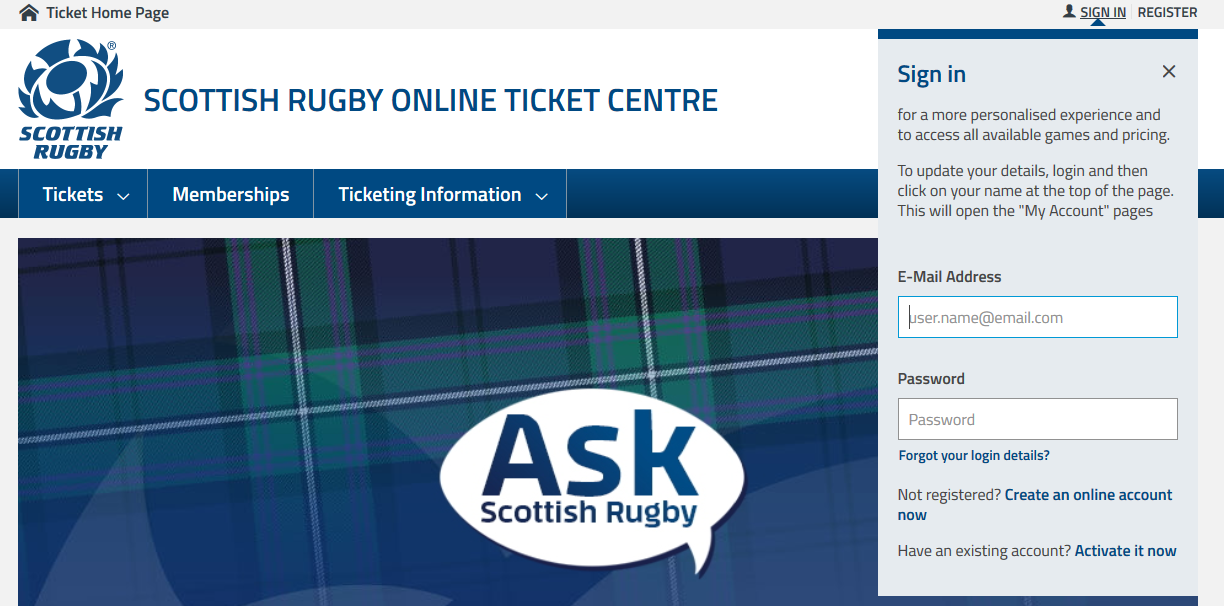 Enter the email address that is attached to your account, this will be the address you received information pertaining to your refund, not necessarily the email you receive scottish rugby newsletters from as this can be manually entered by yourself from our Newsletter Sign Up page.
Step 4
Once you have signed in, click on My Account which appears on at the top right hand corner of the portal and select Season Ticket Refund Form from the drop down Menu.
Step 5
You will now see the total amount due back to you on the left hand side of the portal. Please enter the details requested on the right hand side of this page taking particular care to ensure that the details are correct. Once you have submitted these details, these cannot be amended.
Any incorrect details may result in a delay in you receiving your refund. The deadline in which to submit your details is Sunday 2 August 2020.
Confirmation
Once you have submitted your details, you will be presented on screen with the above image stating Transfer Successful.
Further confirmation of your details being registered will also be emailed to you. Please ensure you check your spam/junk/promotions folders as emails from us can sometime end up in these folders depending on your email provider.
Dates to remember
Sunday 2 August - Deadline to submit your details
Monday 17 August - Latest day in which you should expect to see your refund in your account.
If you require any further assistance, please contact us by clicking the button below.