Finding your booking details
You can find all of your previous purchases under your Account History in your online account.
If you have made a booking online, you will receive an automatic confirmation email with details of your purchase. With other bookings, for example purchases made over the phone or a season pass automatic renewal, a confirmation email is not automatically generated. In order to review your booking, you can log into your account and view your purchases.
Step 1: Log into your Online Ticketing Account. If you have made bookings by phone or automatic renewal and are not familiar with how to access your online account, please visit How do I access my Account Online?
Step 2: Once logged in, click the account (person) icon and click View Account Menu.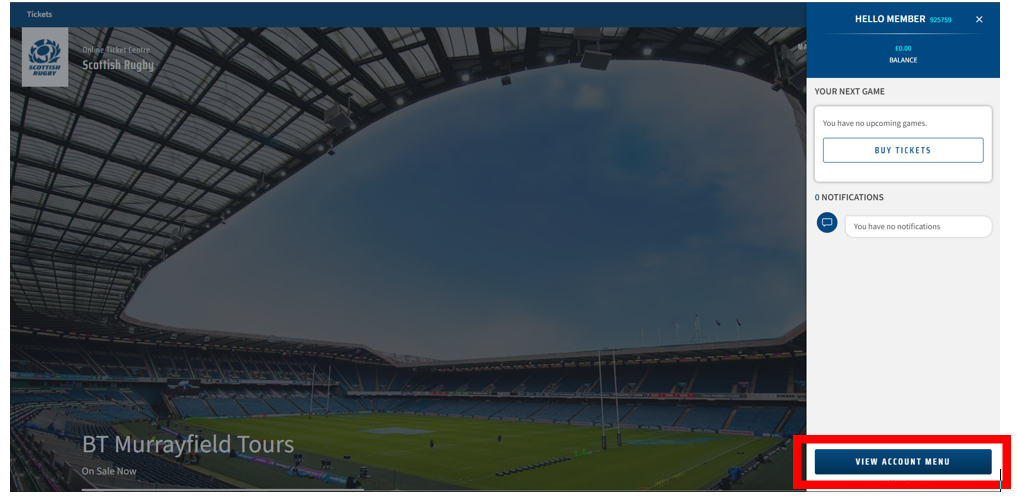 Step 3: Under Account Management, click Account History.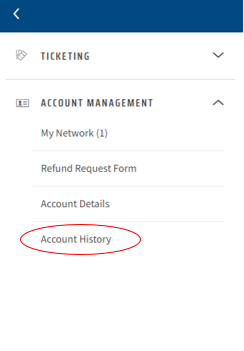 Step 4: On your Account History page you will see a list of all of your previous purchases under your Scottish Rugby ticketing account. You can click on each booking for further details - the drop down arrow next to each purchase will show you more information on each booking.
Under each booking will see a Resend Email button. You can click this to generate a confirmation email to be sent straight to your email address. You may need to check your junk/spam folder and make sure to add ticket.centre@sru.org.uk to your safe sender list.
If you cannot see the booking you are looking for under your Account History section, you may have more than one ticketing account. If you have any issues locating your booking please contact the Customer Services team by emailing ticket.centre@sru.org.uk.