To get your Season Pass, you must have first downloaded and registered on the Scottish Rugby Ticketing App. If you have not yet downloaded the app, you can find step by step instructions on downloading and registering on the app here: How do I get the Scottish Rugby Ticketing App?
You can also find the step by step guide on how to get the app HERE.
If you have not downloaded the app after purchasing your Season Passes, an SMS invite will be sent to the mobile number that you have registered on your ticketing account.
During the app account setup process you will be required to verify your mobile phone number and an email address, ensuring the mobile number matches that entered on your ticketing account at the time of purchase.
Your pass(es) will be displayed on the main My tickets tab within the app and each Season Pass will display a unique QR code providing fast and secure access into the event. There is an icon that shows the number of Season Passes.
Click on the pass to open it.
Your Season Pass and seat details will appear at the top of your ticket. Event information and timings appear in the lower part of the ticket.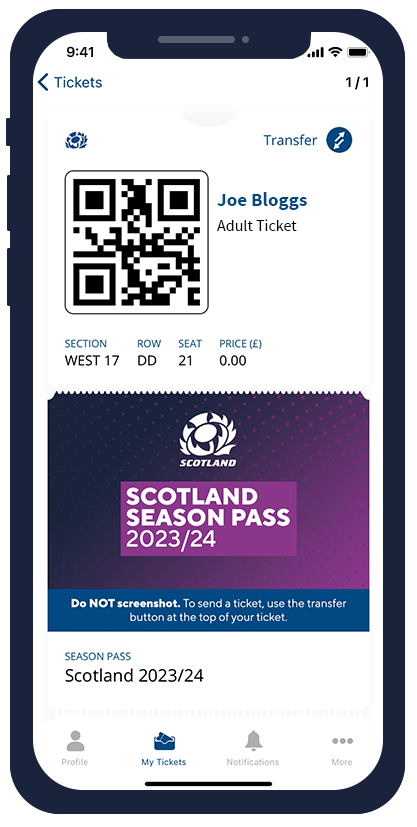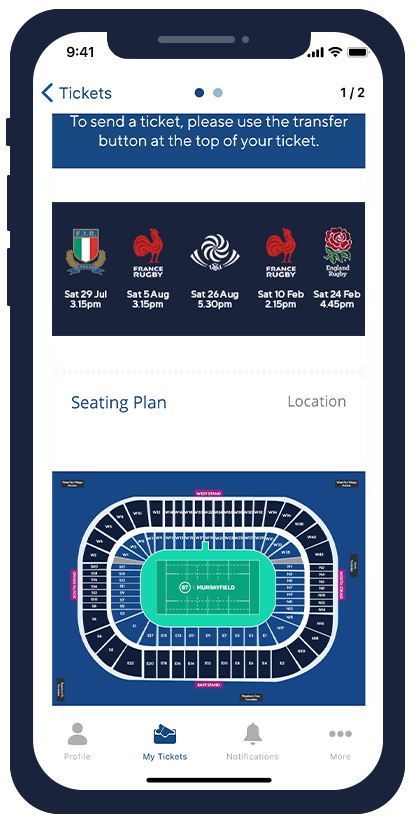 If you have multiple Season Passes within your app, you will find the QR code at the top of each Season Pass. Simply swipe across to move between tickets. You can transfer a Season Pass to someone else as long as they have the Scottish Rugby Ticketing app. See the Transfer guide for details on how to do this here: How do I transfer a mobile ticket/Season Pass?
Your QR code should appear as soon as you receive your season pass. If you are still unable to see your Season Pass or QR code within 48 hours from kick off, please submit an enquiry through the form link at the bottom of this page.
For Further guidance on how to get your Scotland Season Pass(es) through the Ticketing App, please see our helpful guide below.
Ticketing App Guide For Scotland Season Passes.pdf